Mr Smith, a 55 year old accountant has been complaining of odynophagia for the last 2 months. He is asthmatic and uses regular steroid inhalers. His endoscopy showed: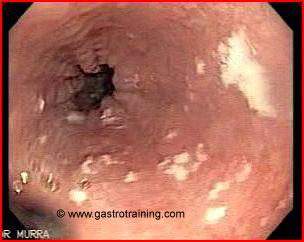 What is the diagnosis?
Oesophageal candidiasis- the endoscopy picture shows white plague like lesions, typical of oesophageal candidiasis. Brushings or biopsy of the lesions reveals presence of candida pseudohypahe.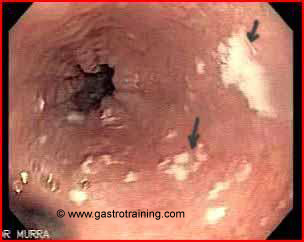 What are the symptoms?
The hallmark of oesophageal candidiasis is dysphagia or odynophagia. However, the patients may be asymptomatic too. It often occurs together with oral thrush; however absence of thrush does not preclude a diagnosis of oesophageal candidiasis.
What is the causative organism?
C. albicans is almost always the infecting organism. Symptomatic infections caused by C. glabrata and C. krusei alone have been described
What are the risk factors for oesophageal candidiasis?
HIV infection- oesophageal candidiasis is an AIDS defining illness and occurs with CD4 counts less than 200/microL.
Haematological and non-haematological malignancies
Chemotherapy or use of broad spectrum antibiotics
Use of inhaled steroids
NB- HIV testing should always be considered in oesophageal candidiasis, even in presence of other risk factors.
What is the treatment?
Systemic antifungal therapy is always required for treatment.
Oral fluconazole (200 to 400 mg daily for 14 to 21 days) is the drug of choice due to its lack of toxicity and cost. Symptoms improve within 7 days.
Further reading
Link to Oesophageal candidiasis
Image courtesy of www.gastrointestinalatlas.com