Gastric polyps
What are the clinical features of gastric polyps?
Gastric polyps are mostly asymptomatic (>90%) and are typically found incidentally at OGD. Larger polyps can present with bleeding, anemia, abdominal pain or gastric outlet obstruction.
What are the types of gastric polyps?
Fundic gland polyps
Hyperplastic
Adenomatous
Hamartomatous polyps (Juvenile polyp, Peutz-Jeghers syndrome and Cowden's syndrome)
Polyposis syndromes (non Hamartomatous polyps as in Juvenile polyposis, Familial adenomatous polyposis)
Subepithelial masses presenting as polyp
Discuss Fundic gland polyps (FGP)?
Observed in 0.8-23% of endoscopies
Usually multiple (usually <10) transparent sessile polyps 1-5 mm in size
Located in the body and fundus
Uncertain cause. FGP may regress or even disappear in time
Unlikely to be related to PPI use (however conflicting reports)
Dysplasia occur in < 1% of sporadic FGPs
Discuss FGP and familial adenomatous polyposis (FAP)?
FGPs are common in patients with FAP. In this context, they are usually multiple and 'carpet' the body of the stomach. Epithelial dysplasia occurs in 25-41% of FAP associated FGP.
There is no clear evidence about the number of FGPs needed to warrant large bowel investigations. The presence of dysplastic foci should arouse suspicion of FAP.
When considering lower GI investigation, remember a flexible sigmoidoscopy can diagnose almost all cases of FAP.
Discuss the management of FGP?
Polypectomy is not required for sporadic FGPs.
Although FGPs have reliable endoscopic features, biopsy of probable FGPs is recommended to exclude dysplasia or adenocarcinoma (and possible FAP) and to exclude the need for polypectomy as required for other types of polyp (moderate, net benefit, qualified).
In patients with numerous FGP who are under 40 years of age, or where biopsies demonstrate dysplasia, colonic investigation should be performed to exclude FAP
Discuss hyperplastic polyps?
Majority of gastric polyps are hyperplastic in nature (30-93%)
Sessile or pedunculated (< 2cms in diameter) usually in the antrum. Can be multiple throughout the stomach
Multiple hyperplastic polyps occur in Menetrier's disease
Hyperplastic polyp formation is strongly associated with chronic gastritis (Helicobacter-associated gastritis, pernicious anaemia, reactive or chemical gastritis when adjacent to ulcer erosions and around gastroenterostomy stomas)
Up to 80% of hyperplastic polyps regree after eradication of H pylori before endoscopic removal
Discuss the management of hyperplastic polyps?
Hyperplastic polyps should be biopsied and an examination of the whole stomach should be made for mucosal abnormalities and any abnormalities biopsied. Hyperplastic polyps rarely undergo neoplastic transformation; however there is an increased risk of neoplasia in the surrounding abnormal gastric mucosa. The risk of adenocarcinoma in the surrounding mucosa is probably higher than in the polyp itself.
Test for H Pylori and eradicate when present
Symptomatic polyp or polyp with dysplastic foci should be removed
Discuss adenomatous polyps?
These are true neoplasm's and are precursors of gastric cancer
Frequently solitary and can be found anywhere in the stomach (commonly in antrum)
Frequently arise on a background of atrophic gastritis and intestinal metaplasia, but there is no proven association with H. Pylori infection.
Discuss the management of adenomatous polyps?
Complete removal of the adenoma should be performed when safe to do so.
An examination of the whole stomach should be made for mucosal abnormalities and any abnormalities biopsied (because there is a strong association between gastric adenoma and synchronous or metachronous gastric adenocarcinoma)
Endoscopic follow-up is required following resection of gastric adenomas. Endoscopy should be repeated at 6 months for incompletely resected polyps or those with high grade dysplasia. Endoscopy can be repeated after 1 year for all other polyps
There is no evidence as to whether gastric polyps need long term surveillance, and given the cost implications of such a programme, only a single gastroscopy 1 year after the removal of polyps with dysplasia is recommended (in the absence of polyp syndromes). Single repeat gastroscopy should also be performed at 1 year for all polyps with dysplasia that have not been removed.
Discuss the management of gastric polyps associated with polyposis syndromes?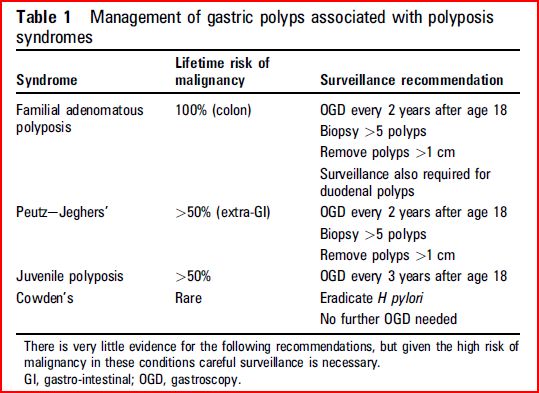 Discuss gastric polypectomy?
Snare polypectomy and EMR in the stomach carry a high risk of complications. In the

largest study

, 7.2% patients had post-polypectomy bleeding, 80% of whom needed endoscopic therapeutic intervention. There is risk of perforation too.
Therefore, given the risks of gastric polypectomy, it may be safer to only biopsy polyps in patients with co-morbidity or at risk of haemorrhage.
Polyps <1 cm probably only require two biopsies, whereas larger polyps require three to four biopsies.
The risks of polypectomy also require the clinician to be confident that polypectomy is indicated.
Recommendations for gastric polypectomy

Any polyp with a dysplastic focus should be completely removed when safe to do so
Endoscopists performing gastric polypectomy should be competent to manage the complications of bleeding.
The decision to perform a polypectomy must be weighed against the risk of complications especially in elderly patients with concomitant illness.
BSG algorithm for the management of gastric polyps: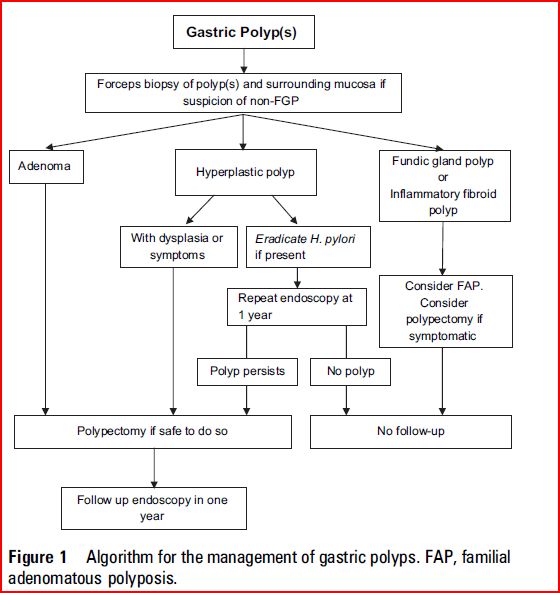 Reference: