Use of Adrenaline injection for haemostasis
The module covers:
When to use Adrenaline
How to set it up
How to actually use it once it is set up
When to use Adrenaline
Most commonly it is used as part of dual therapy (submucosal injection) to achieve haemostasis in ulcer bleeding, bleeding AVM, Dieulafoy lesion, MW tear, post polypectomy bleeding and post sphincterotomy bleeding.
Sometimes it is used to lift up the polyp base before snare polypectomy
It is not used in variceal bleeding.
How to set it up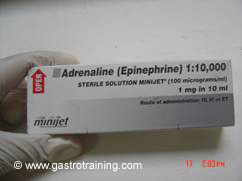 Picture1: Adrenaline injection
Ten ml syringe filled with Adrenaline solution (1:10000 dilution, comes in 10ml ampoules)
Injector needle, primed with same solution. In most situations you probably will use a gold probe and use dual treatment with one device.
How to actually use it once it is set up
Inject adrenaline in four quadrants at the periphery of the lesion. This should be followed by injection at the centre of the lesion.
Assistant pushes the injection hub towards yellow injector stem when you say 'advance needle'- don't say ambiguous terms like needle out or needle in.


Picture2: Advance needle: injector hub is pushed towards the yellow stem

Inject in the submucosa and inject liberal amount (tamponade effect is probably as important as the vasoconstrictor effect) – 10-15ml should be the total amount. Studies show that at least 13 mls should be injected for optimum haemostasis.
After injection is given you say 'needle back' (don't say needle out) and assistant withdraws the needle back in sheath by pulling the hub away from the yellow stem.


Picture3: Needle back: injector hub is pulled away from the yellow stem

Although at times when we inject adrenaline subcutaneously at times of giving local anaesthesia, we always aspirate before injecting to make sure we are not injecting in a blood vessel, we have not come across this practice but might not be a bad idea.
It should be followed by another modality of achieving haemostasis ( e.g. gold probe, endoclip etc)
Complications:
Cardiac tachyarrhythmia can occur particularly in the event of inadvertent intravascular injection
Local pressure necrosis (rarely)
Here is the link for Adrenalin injection video
Acknowledgement/Bibliography:
Gustavo A et al. Thermal probes alone or with epinephrine for the endoscopic haemostasis of ulcer haemorrhage Best Practice & Research Clinical Gastroenterology June 2000 :14 (3): 443-458
Jensen DM et al.CURE multicenter randomized, prospective trial of gold probe vs. Injection & gold probe for hemostasis of bleeding peptic ulcers. Gastrointestinal Endoscopy 1997:Volume 45 (4), Page AB92