Colectomy
Discuss the vascular supply of colon?
The arterial supply to the colon comes from
Superior mesenteric artery (SMA)- It gives rise to middle colic, right colic and ileocolic branches which perfuse the right colon and the proximal half of transverse colon
Inferior mesenteric artery (IMA)- it gives rise to left colic, sigmoid, and superior rectal branches, which supply the distal half of the transverse colon to proximal rectum.
Internal iliac artery branches- it gives rise to middle and inferior rectal branches, which supplies the distal rectum.
Besides, the SMA and IMA communicate through the marginal artery of Drummond. The IMA and the internal iliac arteries communicate through the superior and middle/inferior rectal arteries.
Discuss the indications for colectomy?
Colon cancer
Colitis
Complicated diverticular disease
Polyp cancer or large polyp
Other indications like severe C. difficile, ischemic colitis etc
Discuss the types of colectomy?
Right hemicolectomy- for cancers of the right colon. The right colon and part of ileum is removed with ileocolic, right colic and right branch of middle colic vessels.
Extended hemicolectomy- for tumours of the proximal or mid transverse colon. Proximal transverse colon is removed along with the right colon
Transverse colectomy- this may be dome for mid transverse tumours. The transverse colon is excised along with middle colic vessels
Left colectomy- for distal transverse or descending colon tumours. The distal transverse and descending colon is removed
Sigmoid colectomy- for sigmoid cancers
Subtotal and total colectomy- is done for IBD and synchronous growths in the right and left colon.
Discuss the principles of colectomy?
The resection margins should be at least 5 cms both proximally and distally, although wider margins are often included because of obligatory ligation of the arterial blood supply.
Regional lymphadenectomy is done with colectomy for cancer. At least 12 nodes must be assessed in the surgical specimen for optimum staging. Adjuvant chemotherapy should be considered if less than 12 negative nodes are samples.
Resection and reanastomosis is done as single step surgery. However, sometimes a stoma is created in cases of perforation, peritonitis or in very sick patients. The stoma could be closed at a later date when the patient stabilises
Discuss the complications of colectomy?
Post operative complications occurred in 28% of patients in a large study of patients undergoing open colectomy between 1991 and 1995. The most common complications were prolonged ileus (7.5%), pneumonia (6.2%), failure to wean from the ventilator (5.7%) and UTI (5%). The 30-day mortality was 5.7%. ASA class III or more was strongly predictive of peril operative death.
Ref- Longo et al. Risk factors for morbidity and mortality after colectomy for colon cancer. Dis Colon Rectum 2000; 43:83. http://www.ncbi.nlm.nih.gov/pubmed/10813129
A more recent study done in US academic centres compared colectomy done (for both benign and malignant disease) between 2002 and 2006. It showed 30 day mortality rates were 1.3 and 1.4 percent for left and right hemicolectomy respectively. The overall complication rates were around 27% (similar to the Longo study above) and similar for both right and left hemicolectomy
Laparoscopic or Open colectomy?
Long term results and operative morbidity and mortality are comparable for laparoscopic and open colectomy.
Laparoscopic colectomy require longer operating time but allows faster recovery and shorter hospital stay
Up to 20 % of patients may need conversion to an open approach
Obstructed and perforated tumours are not suitable for laparoscopic approach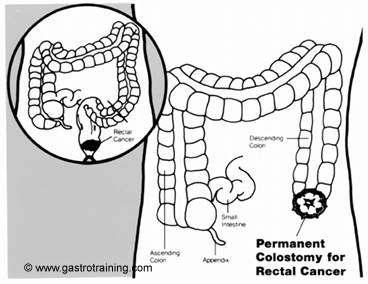 Source: National Cancer Institute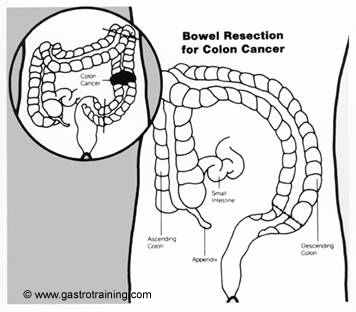 Source: National Cancer Institute