Bipolar probes (i.e. Gold probe) achieve haemostasis by heating the contacted tissue with electricity that passes between the electrodes located at the tip of the probe. Once the tissue in contact with the probe has been completely desiccated, its resistance to further tissue coagulation increases exponentially and deeper tissue coagulation is restricted.
The probe is placed directly on the ulcer at the site of visible vessel. A firm pressure is applied during contact ablation (coaptive therapy) to compress and weld the two sides of a bleeding vessel.
Periodic irrigation removes accumulated debris that might obscure the target lesion. During probe removal, mucosa that is adherent to the probe may tear and rebleed. Water irrigation during probe removal may reduce this phenomenon.
Gold probe can be used tangentially and en face.
Manufactured by Boston scientific
Two types:
Injection Gold Probe™ Haemostasis Catheter – is an injection therapy and bipolar electro haemostasis catheter with irrigation capabilities.
Gold Probe™ Electro haemostasis Catheter- is a bipolar electrocautery catheter with irrigation capabilities (no injection). When passed through an endoscope and activated, it is designed to deliver a bipolar current to cauterize tissue.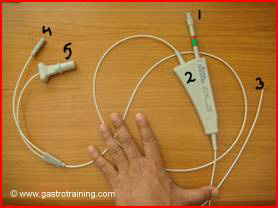 (Link to use of Gold probe)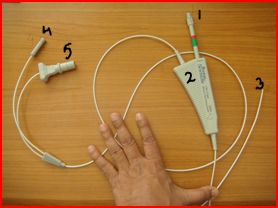 Injection hub (red/green)
Catheter handle
Gold tip
Irrigation port
Bipolar electrical connector (flange shaped)