Endoloop use
Endoloop use
Indications:
To prevent post polypectomy bleeding (particularly with large stalked polyps) or for treatment of post polypectomy bleeding
Also used to prevent bleeding in gastric polypectomy
Steps:
The endoloop comes preloaded, attached to the end of the sheath
The loop will be protected in a plastic casing, from which it needs to be taken out
The handle has got a yellow bung, a thumb ring and a body (where index and middle fingers rest) of the handle.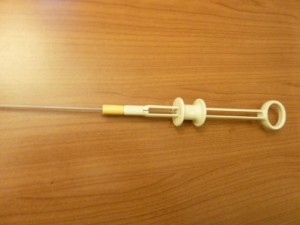 Picture1: The handle of the endoloop
Pushing the yellow bung away from the handle

(step1) will bring the loop inside the sheath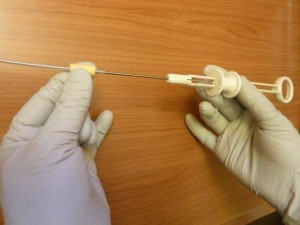 Picture2: Step1- ensheathing the loop before passing through the channel
Next the sheathed loop is fed through the accessory channel
Once polyp is located, loop is opened out of the sheath by

pulling the yellow bung towards the handle

( Step2-reverse movement of step 1)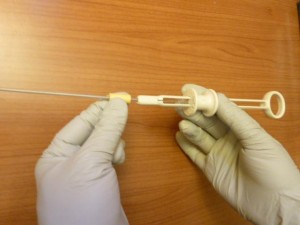 Picture3: Step2-Reverse movement of step 1- bringing the loop out of the sheath
The loop is then placed over the polyp or the polypectomy stalk
The loop is then tightened over the stalk –

by closing the handle

(i.e. the index and middle finger will close in to the thumb) Step3 – which moves a silicone stopper to close the loop. Don't close too tightly; otherwise it might snare the polyp off.
Picture4: Step 3- tightening the loop
Once tight – check for blanching around the loop as a result of restricted blood flow
Lastly to fire/detach/deploy the loop-

open the handle fully

(Step 4- reverse movement of step 3)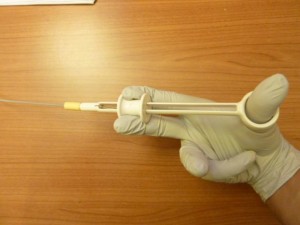 Picture5: Step 4- Reverse of step3- firing/detaching the loop
Loop usually stays in for up to 7days and then falls off
Video link of how to use endoloop