Mr Matthews, a 19 year old man presents with 2 year history of intermittent dysphagia. His endoscopy showed: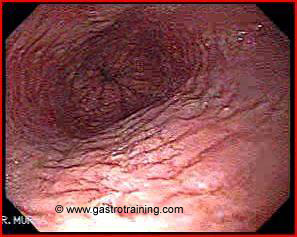 What is the diagnosis?
Eosinophilic oesophagitis. The picture shows a ringed appearance i.e. trachealized oesophagus.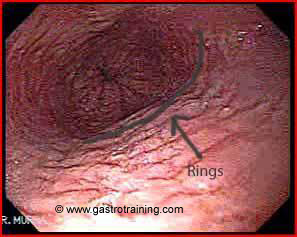 Discuss the endoscopic findings in eosinophilic oesophagitis?
Endoscopic findings are usually subtle and a careful examination is needed along with biopsies. Endoscopic findings include:
Strictures
Trachealized oesophagus (ringed appearance)
Whitish elevated papules that resemble candidiasis
Longitudinal linear furrows (also called oesophageal corrugation)
How do you establish the diagnosis?
At least 5 biopsies should be obtained from the proximal and distal third of the oesophagus for optimal sensitivity.
The current accepted number of eosinophils needed for diagnosis is 15 eosinophils/HPF in the presence of a consistent clinical context.
Oesophageal biopsies should be obtained if the clinical history is suggestive (even if the oesophagus looks normal endoscopically)
What is Eosinophilic oesophagitis?
Chronic oesophageal inflammation of unknown origin that is characterized by dense infiltration of eosinophils.
It has been described in patients of all ages, however it is most common in the childhood
It predominantly affects males
Possibly allergic in aetiology as majority of patients have a personal or family h/o allergy
New disease with an increasing incidence
Discuss the clinical manifestations of EO?
Intermittent dysphagia
Food impaction
GORD like symptoms unresponsive to PPI
Vomiting
Chest pain
Further reading
Link to Eosinophilic oesophagitis
Image courtesy of www.gastrointestinalatlas.com