Discuss Perianal lesions in Crohn's disease?
Perianal lesions that occur in patients with Crohn's disease include skin tags, haemorrhoids, fissures, anal ulcers, fistulas, perianal abscesses, anorectal strictures, and cancer.
Fistulas may originate below or above the dentate line (high or low fistulae).
Fistulas are mostly classified as either "simple" or "complex."

A simple fistula is low, has a single external opening with no evidence of abscess, rectovaginal fistula or anorectal stricture. The presence of active rectal Crohn's disease may make a simple fistula more complicated to manage.
A complex fistula is high, may have multiple external openings, may be associated with the presence of pain or fluctuation to suggest a perianal abscess, may be associated with the presence of a rectovaginal fistula, may be associated with the presence of an anorectal stricture, and may be associated with the presence of active rectal disease at endoscopy.
What is the prevalence of fistulas in CD?
The cumulative frequency of perianal fistulas in patients with Crohn's disease in referral centres has been reported to range from 15% to 40%.

Discuss treatment of perianal lesions?
Skin tags- Excision is not advised due to the reported high rate of post operative complications.
Haemorrhoids-Simple haemorrhoidectomy or banding of haemorrhoids is usually contraindicated due to the frequent occurrence of postoperative complications, including poor wound healing, anorectal stenosis, and a high rate of proctectomy.
Anal fissures- Anal fissures in patients with Crohn's disease are usually painless and spontaneously heal in the majority of patients. Lateral sphincterotomy may be needed to control pain from the fissure (not to local sepsis) provided there is no rectal inflammation. Fissurectomy is contraindicated.
Anorectal stricture- Asymptomatic patients do not require treatment. Symptomatic patients can be treated with dilation. Repeat dilations are often required.
Perianal abscess- The presence of perianal pain, tenderness, or fluctuation in a patient with Crohn's disease requires EUA to exclude the presence of a perianal abscess. Perianal abscesses must be drained surgically.
Perianal fistulas

Discuss management of fistulas?
To plan appropriate treatment, patients with perianal Crohn's disease must be classified as having simple or complex perianal disease.
Physical examination and endoscopy may be sufficient for many patients when medical therapy is the initial treatment strategy.
However, EUA and either endorectal EUS or pelvic MRI is indicated in those patients with pain, fluctuation, or stricture on digital rectal examination and in those patients in whom surgical therapy is the initial treatment strategy (because up to 10% of patients with perianal fistulas will be misclassified by EUA alone and fistulotomy of a high fistula misclassified as a low fistula may lead to incontinence and/or poor wound healing and in some instances subsequent proctectomy) and in those failing medical or surgical therapy.
A number of studies have reported that pelvic MRI or anorectal EUS findings combined with EUA change surgical management in 10%–15% of cases.
Treatment

General treatment- Treat any luminal disease. Loperamide, cholestyramine or codeine should be used as indicated. All these general measures are aimed to reduce stool liquidity and hence quantity of fistula drainage.
Discuss the treatment of simple fistulas?
Insufficient evidence to recommend as to whether antibiotics, fistulotomy, azathioprine or 6-mercaptopurine, or infliximab is the preferred strategy for simple fistulas. Tacrolimus and ciclosporin are not appropriate treatment for simple fistulas because of toxicity.
Antibiotics are usually used to treat simple fistulas. Metronidazole 400 mg tds and/or ciprofloxacin 500 mg bd are appropriate first line treatments for simple perianal fistulae (for up to 3-4 months). Patients should be cautioned to discontinue therapy if they develop heel pain or oedema because of the small risk of Achilles tendon rupture associated with fluoroquinolones.
Fistulotomy- may be needed if the patients do not respond to antibiotics. Healing rates with fistulotomy is a lot better in the absence of active proctocolitis.  Thus, many surgeons use a noncutting seton rather than fistulotomy in patients with low fistulas and active colitis.
The immunosuppressive medications azathioprine and 6-mercaptopurine can be used to treat simple fistulas but these agents are slow acting and thus may be of more utility for maintaining fistula closure than for the initial induction of fistula closure.
Discuss the treatment of complex perianal fistula?
Medical treatment
Infliximab is very effective for reduction in the number of draining fistulas and maintenance of that reduction.
6- MP and azathioprine- are used to treat complex fistulas. However, these agents are slow acting and thus are of more utility for maintaining fistula closure than for the initial reduction in the number of draining fistulas.
Antibiotics are widely used as adjuncts with other medical or surgical therapy.
Finally, tacrolimus or cyclosporine can rarely be considered in selected patients who fail multimodality treatment with other medical and surgical therapies, including infliximab.
Surgical treatment
Surgical therapy for complex perianal disease is largely palliative. Surgery is offered when the medical therapy has failed or is contraindicated. Patients who initially fail treatment with infliximab should undergo anorectal EUS or pelvic MRI as well as EUA with placement of setons as indicated while continuing treatment with infliximab, azathioprine or 6-mercaptopurine, and antibiotics. Tacrolimus or ciclosporin can be considered in patients who fail this multimodality approach
High fistulas- Setons are the treatment of choice in patients with high fistulas and active colitis of the rectosigmoid.
An endorectal advancement flap can be used as an alternative to noncutting setons in patients with high fistulas who do not have macroscopic evidence of rectal inflammation. An advancement flap consists of incising a flap of tissue (mucosa, submucosa, circular muscle) around the internal opening of a fistula, excising the internal opening of the fistula tract, and pulling the flap down to cover the opening.
The recurrence rates following removal of noncutting setons and following endorectal advancement flap procedures are both relatively high. Setons can be left in place indefinitely. However patients may not prefer refer this option.
Placement of a temporary diverting ileostomy or colostomy has been used to treat severe perianal Crohn's disease as a last resort. These procedures are rarely performed now after a number of studies showed that most patients who undergo placement of a temporary diverting ileostomy or colostomy for perianal Crohn's disease never have intestinal continuity restored. Historically, proctectomy rates for patients with perianal Crohn's disease managed conservatively range from 10% to 18%.
What is a seton?
A noncutting seton is a suture or drain that is threaded into the cutaneous orifice of a perianal fistula, through the fistula tract, across the mucosal orifice of the fistula into the rectum, and then out the anal canal.
A noncutting seton maintains drainage of the fistula, thereby reducing the risk of perianal abscess formation.
A seton can be left in place indefinitely. This was the standard practice before the advent of biologics and immunomodulators. However, most patients if given the choice would like these to come out eventually.
So currently, setons are used for short term drainage while medical therapy is added.  The seton is pulled out after 6-8 weeks to try and get the tracts to heal completely.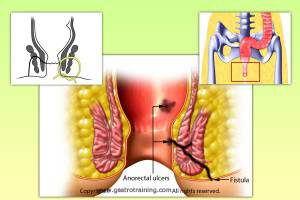 Discuss the fistula management algorithm?
It needs close co-operation between surgeons and physicians. Once fistula develops- evaluate bowel extent and activity.
Treatment- pain relief./Drain abscess/Antibiotics-Ciprofloxacin and/or metronidazole
If fistula heals- observe (? prolonged antibiotics). Fistula persists- Do EUA/MRI/Rectal EUS
Add Azathioprine or 6-MP- healing- maintain Aza or 6MP
Fistula persists- infliximab 0, 2, 6 wks- heals-maintain healing with Aza or 6MP. If relapses maintain with infliximab
If Infliximab fails to heal- IV cyclosporine. If healing- continue cyclosporine 6-12 m and then long-term Aza or 6MP. Surgery, if cyclosporine fails.
Steroids should not be used in t/t of pts with fistula- as significant failure of fistulas to heal in pts taking steroids. Steroids however may be needed to control the luminal disease.
Article printed from Gastroenterology Education and CPD for trainees and specialists: https://www.gastrotraining.com